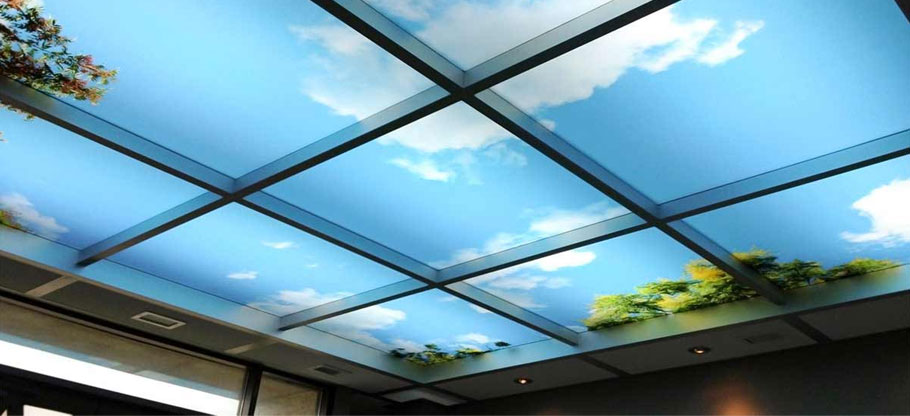 A list of the best selling original sky ceiling designs from Fluorescent Gallery
Sky ceiling panels are a great way to make you feel like you're outside on a bright, blue summer day anywhere, whether you're at work, school or in the doctor's office. Sky and cloud light covers are also a great way to feel better about spending time indoors during the cold winter months.
Here at Fluorescent Gallery, we offer two different kinds of sky ceiling panels: sky ceiling light panels and sky mural ceilings. The primary difference between the two is that our sky ceiling panels are designed to be used individually (although they can be used together) and sky mural ceilings are large images that can be divided among multiple panels that are joined together.
Below, we've highlighted twelve of our top-selling sky ceiling light panels and sky mural ceilings.
Sky Ceiling Light Panels
Sky panels create the feeling that you're outside even when you spend the majority of your time inside, and they help soften the harsh glare of fluorescent lights. These diffusers help boost your mood and make your day more productive simply because they make your space more pleasant.
Here are our five most popular sky ceiling light panels:
Sky Mural Ceilings
Sky mural ceilings are divided into several panels that come together as one magnificent image to create a panoramic view on your ceiling. These murals usually need to be printed on two to eight panels, but we can usually customize the size of any sky mural design to fit your space.
It's worth noting that the configurations below are examples only. Each original design can be modified to meet your individual needs (up to 50" by 50" panels). Without further ado, here are our five best selling sky mural ceiling installations:
Order Your Favorite Sky Cloud Panels & Mural Design Today
These are just a sampling of our many beautiful sky ceiling panels. Continue browsing our website to shop for a great solution for your home or business.