The goal of choosing the correct size is to make sure there is enough support to hold the lens in place, without making it so large that removal and replacement are difficult.
Easy ways to measure:
1. Measure a currently installed panel as long as it fits securely in the frame and is not touching any of the inside frame/grid sides.
2. Excellent double-check: Measure the visual opening where you see the panel only (not including any part of the frame/grid inside or outside). Then, add 3/4″ to each measurement (assumes you have a 1/2″ lip on all 4 sides). Example: Visual opening measures 47″ x 23″, the panel size will be 47 3/4″ x 23 3/4″. If you select a design with lines and borders, this measurement will also give you an even design balance once installed.
Optimum overlap on the frame should be 3/8″ to 1/2″ completely around the panel perimeter.  This means the lens will be 3/4″ to 1″ longer than the length of the light opening, and 3/4″ to 1″ wider than the width of the light opening. Keep in mind that you need a bit of vertical clearance to be able to maneuver the lens into the opening. If you have 3/8″ or less inside the frame, with no wiggle room, we recommend that you upgrade to the Lumieo acrylic for stronger center support.
If you require a custom size, our graphic artists modify the artwork to fit your specific measurements. We never simply cut part of the design off of the panel.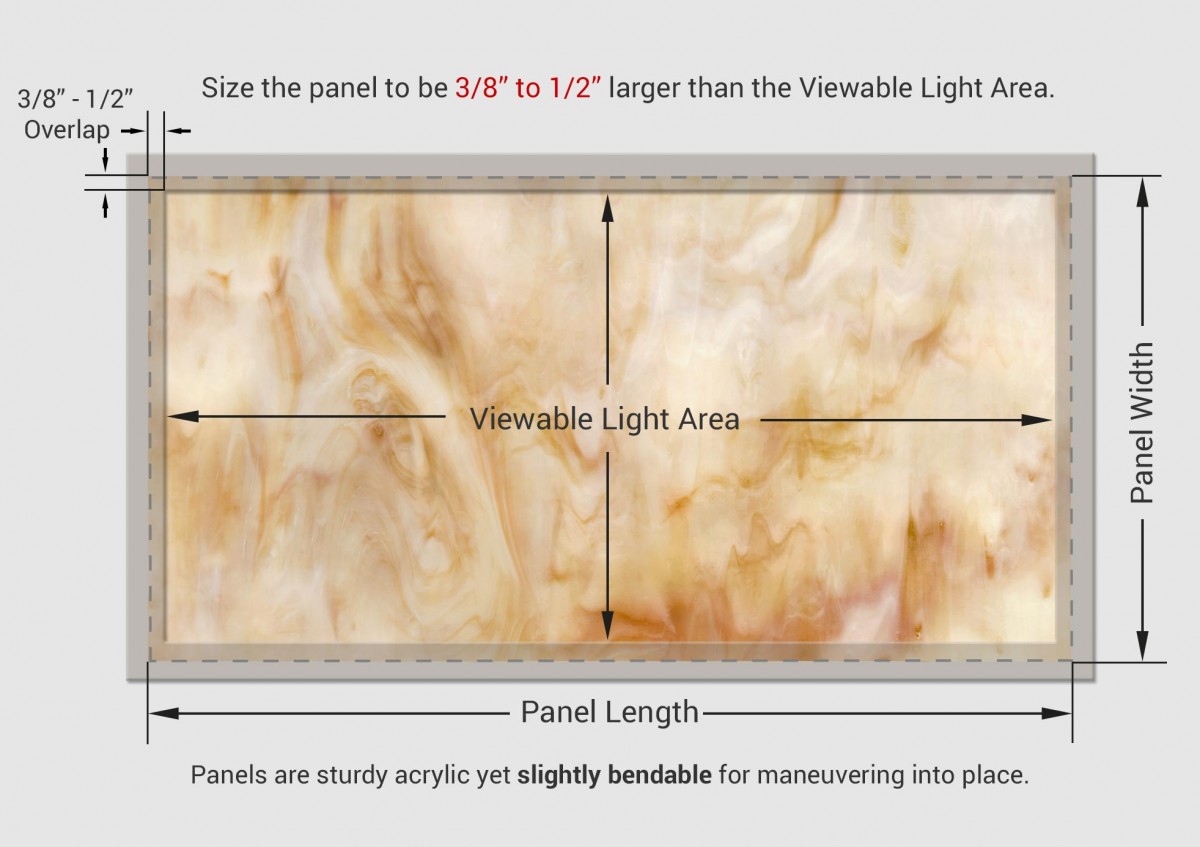 ---
Why Work with Fluorescent Gallery?

 We're a premier source for high quality, cost effective, and long lasting decorative fluorescent light diffuser panels.

Based in Aliso Viejo, California, we have delivered tens of thousands of home and commercial lighting solutions worldwide since 2007.

We work directly with home owners, business owners, general managers, general contractors, and designers to provide custom light panels that complement the interior of every space.

Our diffuser panels are considered a long-term investment, lasting many years without turning yellow or becoming brittle.

Our classic skies and clouds, stained glass, ornamental iron, and other lighting themes are printed on premium acrylics and known to improve productivity in offices spaces.

Our wide assortment of decorative replacement light diffusers can enhance existing commercial fluorescent and LED lighting installations — a relatively low-cost remodel.
Continue browsing our website to shop for a great solution for your home or business.

Read our FAQs

Visit our Blog