Discover Our High-Resolution Wall Decor
Fluorescent Gallery offers the highest-resolution wall murals available.  Murals are printed from the photographic works of photographer Jim Tarpo (founder of Fluorescent Gallery). These images are composed of many separate photographs and require numerous hours of editing to flawlessly stitch them together. The result is a beautiful wall mural, with tremendous detail at a very large size. These extraordinary images can be explored by clicking on the button below.
To order a Wall Mural
For many orders, these steps will allow a direct order of a wall print.  If you need assistance or suggestions, please Contact Us.
Choose an image on Jim Tarpo Photography.
Select the wall mural image of interest. Then, click on the Order Wall Mural button for pricing. You will be returned to the Fluorescent Gallery site to continue.
Select the desired type of  Print Media Paper.
Specify the installation size, and Add to Cart.
Recommendations
Add extra dimension on Top and Bottom, Left and Right to accommodate non-square walls and other installation challenges.  This would typically be 3 to 6 inches of extra width, and 2 to 3 inches of extra height.
For walls with rough patches (that may show through the print), choose a matte laminate self-stick, or one of the textured papers.
A gloss laminate is recommended for walls that are subject to dirt, handprints, etc.
Order a Wall Mural of Your Image
Click here to order a mural of your own image.  Keep in mind that wall murals require a very high-quality image due to the print size.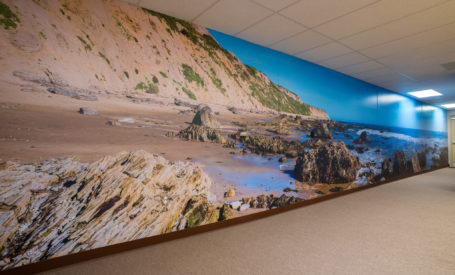 After Completing Your Purchase
We will select the best crop and resize option, and send you a preview image for approval.  Individual sheets will be set up with an overlap of 1 inch to facilitate either a double cut or a simple overlap.
For large murals, we recommend using a professional installer. The Wall Covering Association is quite useful for locating these resources.
If your installations are in Southern CA, we can provide you with some known installers upon request. The mural below was expertly installed by James Reppert of Elite Paper Hanging in Orange County, CA.
To Order a Light Box Wall Unit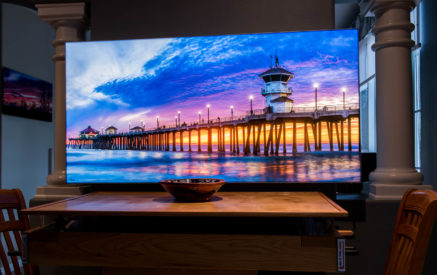 Fabric Printed Light Boxes are custom-sized for your size, color, image requirements, and preferences.  We would be happy to have a discussion to tell you more about these state of the art LED image displays.
Choose an image on Jim Tarpo Photography.
Use the Inquire About A Print or Contact Us to Start Discussions for a Quotation.
---
Watch this time-lapse video of our wall mural installation
---
Why Work with Fluorescent Gallery?

We're a premier source for high quality, cost-effective, and long-lasting decorative fluorescent light diffuser panels.

Based in Aliso Viejo, California, we have delivered tens of thousands of home and commercial lighting solutions worldwide since 2007.

We work directly with homeowners, business owners, general managers, general contractors, and designers to provide custom light panels that complement the interior of every space.

Our light panels are considered a long-term investment, lasting many years without turning yellow or becoming brittle.

Our classic skies and clouds, stained glass, ornamental iron, and other lighting themes are printed on premium acrylics and known to improve productivity in office spaces.

Our wide assortment of decorative replacement light diffusers can enhance existing commercial fluorescent and LED lighting installations — a relatively low-cost remodel.
Continue browsing our website to shop for a great solution for your home or business.

Read our FAQs

Visit our Blog
Knowledge Center