A beautiful wall mural can completely transform a room.  It the quality of the image is is exceptional the results can be extremely rewarding.  Fluorescent Gallery is pleased to offer the high resolution photographic works of photographer Jim Tarpo for purchase as wall mural applications and light box displays.  All of the images on his site are available for purchase using the following method:
To order a Wall Mural
Find the image you wish to print on jimtarpo-photography.com. This site is specifically designed for in depth evaluation of larger images.
Select the Jim Tarpo Photography Wall Mural product to enter your order details.
Enter your chosen image name in the Special Instructions field.
Choose one of the Print Media available.
Enter the desired size, and finish placing your order.
Helpful Hints
Add extra dimension on Top and Bottom, Left and Right to accommodate non-square walls and other installation challenges.  This would typically be 4 to 6 inches of extra width, and 3 to 4 inches of extra height, but very large murals could require more.
For walls requiring extra patches to cover wall sockets, thermostats, etc.  Contact us to discuss a strategy.
For walls that have rough patches that would show through, choose a matte laminate self-stick or preferably one of the textured papers.
Walls that will be subject to dirt, hand prints, etc., may be a candidate for a gloss laminate.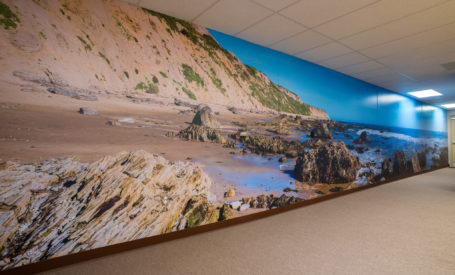 After Completing Your Purchase
When we receive your purchase, we'll select the best crop and resize option, and send you a preview image for approval.
For large murals we recommend using a professional installer. The Wall Covering Association is quite useful for locating these resources.
If your installations are in Southern CA, we can provide you with some known installers upon request.
Watch this time-lapse video of our wall mural installation
---
Order Your Wall Mural Here