Order Unique High-Resolution Wall Decor
Fluorescent Gallery offers the highest-resolution wall murals available. Murals are printed from the photographic works of photographer Jim Tarpo (founder of Fluorescent Gallery). These images are composed of many separate photographs requiring numerous hours of editing to flawlessly stitch them together. The result is a beautiful wall mural, with unmatched detail at very large sizes.
THESE IMAGES ARE COMPARABLE TO FINE ART. The resolution can be over 2,500% greater than a typical photo. For examples, visit these images at VAST photos: The Jewel by the Bay and One Laguna Night (scroll down the page a bit to view zoomed-in sections of the image). VAST offers our photography in high-quality prints and acrylic glass displays.
Select the link below to learn more. Then, select Portfolio to view our photographic options. See the incredible detail in every photograph by selecting the High Resolution Viewer on each individual image page.
Our images are available printed on different materials for your walls. They can also be excellently printed on acrylic to be backlit for walls and ceilings.
Interested in licensing an image? Please Contact Us for pricing.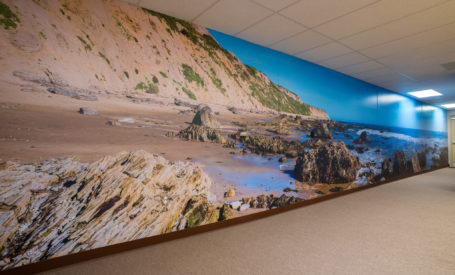 ---
Watch this time-lapse video of our wall mural installation
---
Why Work with Fluorescent Gallery?

We're a premier source for high-quality, cost-effective, and long-lasting decorative fluorescent light diffuser panels.

Based in Aliso Viejo, California, we have delivered tens of thousands of home and commercial lighting solutions worldwide since 2007.

We work directly with homeowners, business owners, general managers, general contractors, and designers to provide custom light panels that complement the interior of every space.

Our light panels are considered a long-term investment, lasting many years without turning yellow or becoming brittle.

Our classic skies and clouds, stained glass, ornamental iron, and other lighting themes are printed on premium acrylics and known to improve productivity in office spaces.

Our wide assortment of decorative replacement light diffusers can enhance existing commercial fluorescent and LED lighting installations — a relatively low-cost remodel.
Continue browsing our website to shop for a great solution for your home or business.

Read our FAQs

Visit our Blog
Knowledge Center