We are pleased to present the results of one of our most adventurous and creative undertakings. Motivated by recurring requests for a unique, colorful, and large fluorescent or LED lighting solution, we decided to step outside the box. This new "Virtual Stained Glass Dome Ceiling" makes the beauty and elegance of a stained glass dome ceiling available for a traditional two-dimensional installation of premium quality acrylic panels in a drop-ceiling configuration.
This design was heavily inspired by the gorgeous jewel in the Paris Hotel and Casino in Las Vegas and the Ceiling of the Lafayette in Paris. Click here to see it in our High-Resolution Viewer.
Colors
The product page shows several suggested colors. However, all of them may be adjusted for specific requirements. The main center/perimeter color backgrounds (blue, beige, purple, turquoise, white, etc.) are easily modified and can be closely matched to a target color. As a result of many weeks of creative effort, this design is suitable for large installations due to the depth of detail.
Installation Thoughts
A typical installation would have a 3×3 grid of square panels, as shown to the right. The size of each of the panels could range from 24″ to 50″ to achieve the result. Alternatively, other creative support grids could be constructed (or welded) to minimize visual interference of the image.
Rectangular Ceiling Areas
To accommodate ceilings that are not a perfect square or circle, the outer grid area can be adjusted to fill the illuminated space not occupied by the circular part of the design. This technique is shown below. The grid background color can, of course, be modified according to design needs.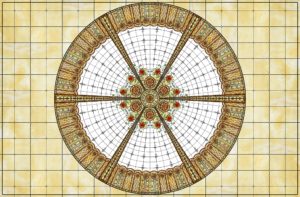 A Printed Fabric Ceiling Diffuser
While most installations will be traditional acrylic, some stunning prints are now available on high-quality fabrics.   This would be a method of illumination that does not require the suspended ceiling support grid. Please contact us if you wish to explore this option.